Customized Strap
You can add all the extra straps that you want to make matches with your bienhechas bags. Choose your favorite size and color. Each size is perfect for a different occasion.
As for the colors, you can make soft or strong color matches, taking something neutral or giving a touch of color to the most classic.

Choose whatever you really fancy!
Handmade with certified recycled leather in our workshop in Málaga by a super team of women who love what they do :)
---
Puedes financiar tu pedido con Aplazame o Klarna.
Solo tienes que seleccionarlo como método de pago al finalizar tu compra.
Podrás elegir las cuotas y las condiciones que mejor se ajusten a ti y conocer toda la información que necesitas antes de aceptar. Consulta nuestra página "Financia o aplaza tus compras" para más información.
¡Es muy sencillo! :)
labienhecha's community
Check how they wear them
Nothing make us happier than get your pictures wearing your bienhechas. Bring yourself to tag us: @soylabienhecha (use the hashtag #todassomosbienhechas)
DO YOU HAVE ANY DOUBT?
Look what our customers say
Here we show 100% real reviews by 100% real customers who have already ordered some of our products and share their experience. And there are already more than 1000 reviews!
Valoración de los clientes
Write a comment
Haz una pregunta
11 febrero 2021
Nydia G.

Spain
Super contenta
La entrega incluso viviendo en Canarias ha sido rapidísima. Y la calidad estupenda. Soy muuuuy fan de los bolsos de la bienhecha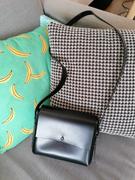 11 febrero 2021
Labienhecha
Millones de gracias por tus palabras y por tu apoyo, Nydia! Qué alegría nos da leerte :) Esperamos verte de nuevo pronto por aquí! Un abrazo grande y disfruta de tu bienhecha! ♥️