Gift card
Do you want to make a super gift but you're not sure about it? Don't worry! Gift the power of choice with our Gift Card :)
We will send the gift card via email to whomever you want with all the necessary instructions to redeem it in the shopping cart. It's very easy!
Handmade with certified recycled leather in our workshop in Málaga by a super team of women who love what they do :)
---
You can defer your order with Aplazame.
You just need to choose it as payment method when finishing your order.
You can defer your order and you'll be able to see simulator with all the information you need to choose the best option for you.
¡It's very simple! :)
labienhecha's community
Check how they wear them
Nothing make us happier than get your pictures wearing your bienhechas. Bring yourself to tag us: @soylabienhecha (use the hashtag #todassomosbienhechas)
DO YOU HAVE ANY DOUBT?
Look what our customers say
Here we show 100% real reviews by 100% real customers who have already ordered some of our products and share their experience. And there are already more than 1000 reviews!
Valoración de los clientes
Write a comment
Haz una pregunta
30 enero 2022
Silvia Q.

Spain
Tarjeta regalo
Ha sido muy fácil el proceso de comprar, también me ha parecido bien lo de poder dejar una propina. Lo que pasa es que comentasteis que la tarjeta no caducaba y en la mía pone una fecha de caducidad en 2023. Es lo único que no he entendido mucho.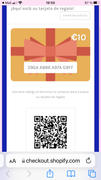 31 enero 2022
Labienhecha
Hola, Silvia! Un millón de gracias por tu apoyo y por tu tiempo para compartir tu experiencia :) No te preocupes, lo hemos revisado y te confirmamos que tu tarjeta regalo (o cualquier otra que adquieras a partir de ahora) ya no tiene fecha de caducidad. Te la hemos reenviado para que puedas comprobarlo... ¡Mil disculpas por el lío! Si te surge cualquier duda o necesitas cualquier cosita de nuestra parte, estamos por aquí. Un abrazo grande de parte de todas!
28 enero 2021
Agueda P.

Spain
Valoración desde Asturias
Ha sido muy positiva. A la persona a quien hice el regalo le encantó y enseguida hizo un pedido. Estamos encantadas!!!!
02 febrero 2021
Labienhecha
Muchísimas gracias por confiar en nosotras y por compartir tu experiencia, Agueda! Te mandamos un abrazo enorme y esperamos verte de nuevo por aquí pronto :) Gracias >3